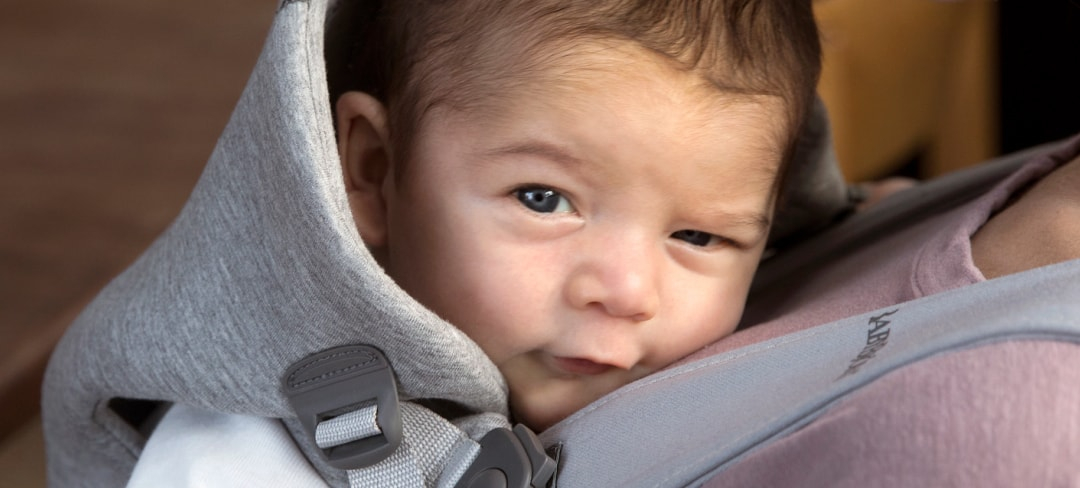 Choose the best baby carrier for you
Carrying your baby in a baby carrier makes life easier for new parents. In addition to the practicality of having your hands free, while still enjoying closeness with your baby, babywearing has a number of other key benefits! You are also strengthening the important parent-child bond and this encourages your baby's development as well. Choosing the best baby carrier for you can be a challenge - give some thoughts to what you need and then compare the baby carriers.
For how long a period do you want to be able to carry?
Do you want a smaller baby carrier that's perfect for the first few months of your baby's life or do you want an adaptive baby carrier that you can use for several years?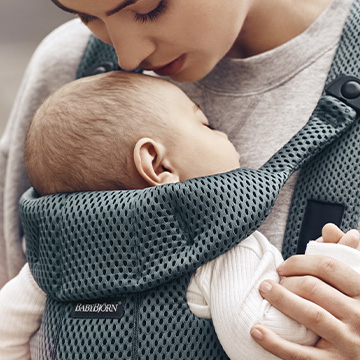 When do you want to be able to use the baby carrier?
Do you mainly want to use the baby carrier at home to keep your hands free or do you want to be able to use the baby carrier instead of a pram when you go out? The longer you want to be able to carry your baby each time, the more pressure relief you require from the baby carrier.
How do you want to be able to carry?
You should always carry a newborn baby facing in towards you. Some baby carriers allow you to carry a larger baby facing outwards on your front. There are some models which allow you to carry a toddler on your back, which gives better pressure relief.
Which BabyBjörn Baby Carrier is right for me?
You have a choice among several different types of baby carriers. From easy-to-use models most suitable for newborn babies to more ergonomic baby carriers that can also be used to carry toddlers and give better pressure relief so you can carry your child for longer. Do you want a small and simple baby carrier to use for your newborn baby from day one? Or would you prefer a more advanced baby carrier that you can use for several years?
Quick and easy to put on and take off
2 front carrying positions
Super-soft and flexible baby carrier fabrics in cotton satin, 3D mesh and 3D jersey
0-1 year
Discover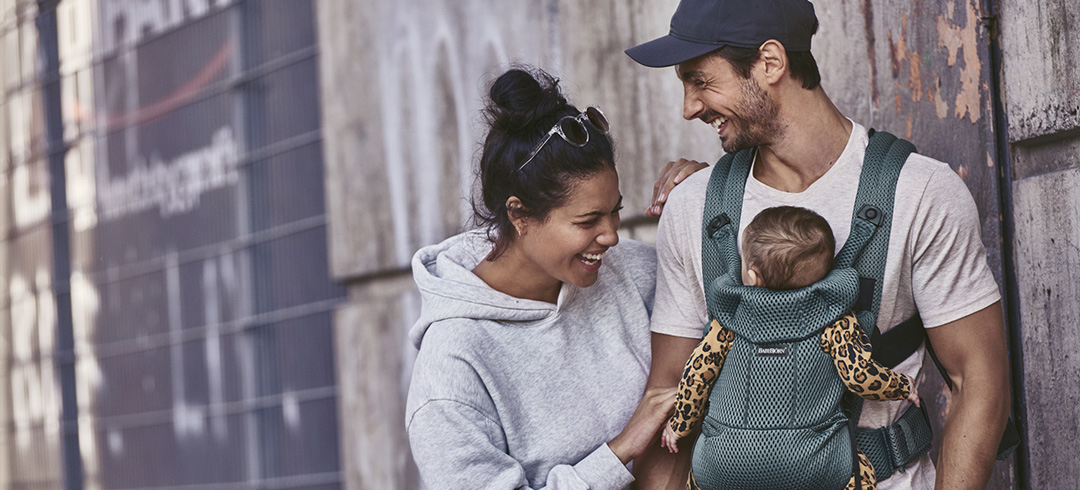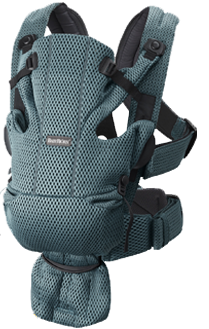 Excellent comfort with built-in back support and waist belt
Easy to put on and take off
Carry facing in or facing out on your front
0 – 15 months
Discover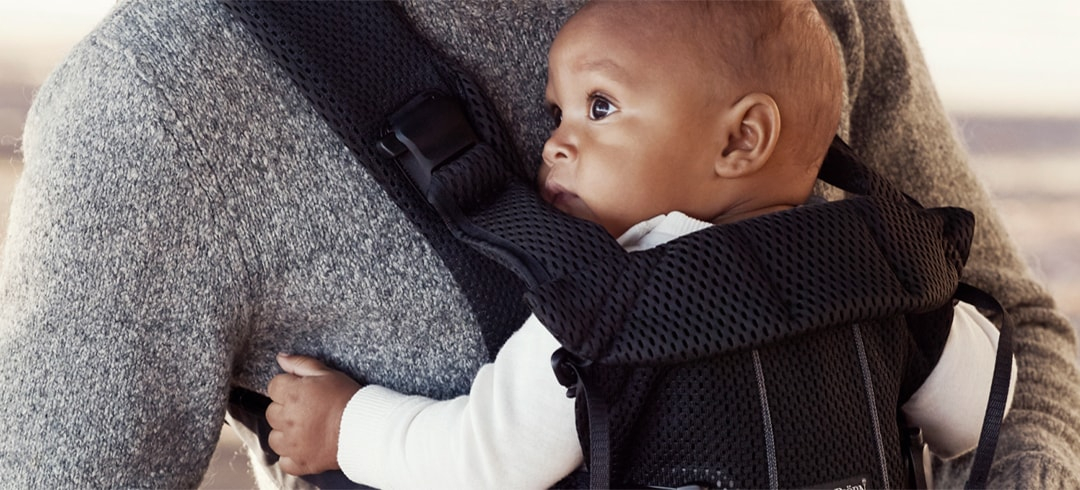 Superior carrying comfort when carrying a larger child during longer sessions
4 front and back carrying positions
The baby carrier's size and seat width are fully adjustable
Pressure-relieving waist belt and padded shoulder straps
0-3 years
Available in cotton mix and breathable 3D mesh that keeps your baby dry and cool
Discover baby carrier One

Discover baby carrier One Air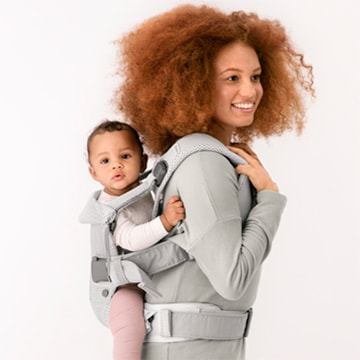 which fabric is right for me and my baby?
The fabrics in our baby carriers are specifically developed for BABYBJÖRN and are designed to suit very young babies.
Materials should be gentle against your child's skin and safe to chew on (Oeko-Tex© Standard 100 Class I).
Our mesh and jersey baby carriers are made in 3D fabrics that are incredibly soft, give the baby carrier stability and helps with breathability.
Our baby carriers in cotton satin are made in BCI-certified cotton that is satin woven for elasticity, and is supersoft and comfy for a newborn.
All materials are kind to your child's skin and safe to taste. They are free from harmful substances and comply with the requirements of Oeko-Tex Standard 100, Class I for baby products. That's important to us!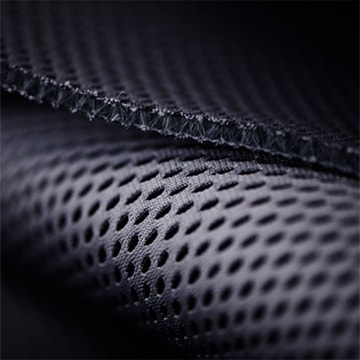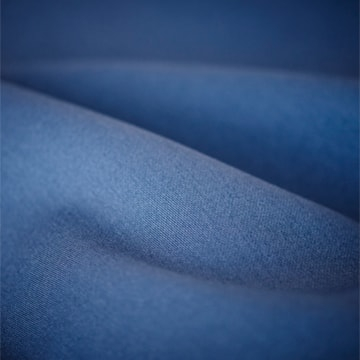 7 tips on how to carry
1. Shoulder straps and waist belt
Padded shoulder straps and a waist belt are essential for carrying a larger child for longer sessions in the baby carrier.
2. wide-leg position
A wide-leg position for the child distributes the child's weight across a larger part of the waist belt
3. Properly adjusted
Make sure the baby carrier is properly adjusted for you body. You will find information about how to adjust your specific baby carrier in the Owner's Manual.
4. Vary the center of gravity
Are your shoulders getting tired? Loosen the shoulder straps to transfer more of the weight to your hips.
5. Vary the carrying position
Vary between carrying your child against your chest and on your back.
6. The child's position
Make sure the child is sitting straight in the baby carrier and not leaning to one side. Check in a mirror!
7. carry close
The closer your baby is to your body, the closer your baby's center of gravity is to yours, which makes carrying even more comfortable.